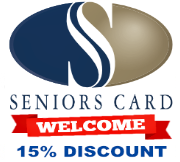 » AOK Health Employment
Working with AOK Heath Pty Ltd brings rewards that few other companies in the Hunter can match. AOK is a world recognized company and has achieved many awards:
2009 Hunter and Central Coast Exporter of the Year Award
2007 Hunter Manufacturers Exporter of the Year
2004 Trainer of the Year – Transport & Distribution
2003 Fastest Growing Wholesale Distributor
These awards are testament to the high ethical and business standards that AOK have within their organization and business operations.

With a strong focus on service, safety and well-being in the workplace, we value applicants who:
Thirst for knowledge and are able to relay their learning to others
Can work to deadlines with a mind for the 'revenue clock'
Feel comfortable contributing ideas and adapting to change
Can be mindful of the needs of customers and work colleagues
Can follow direction and display leadership skills when required
Can follow and design procedures for most efficient results
Those individuals who bring such qualities to AOK will be nurtured and grown in the direction of a long lasting career.
Current Vacancies: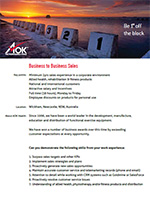 Business to Business Sales
Download Advert »
Business to Business, Full-time position, Incentives

Latest News
» AOK Health has recently Manufactured and Supplied custom Pink mediBalls for Escape Fitness in the UK in support of BreastCancerCampaign.org
» AOK Health has a brand new blog. "Fitness Connect"
» AOK Health is proud to announce we are the winner of the 'Hunter & Central Coast Export Award' for 2009..... VIEW »
» AOK mediBalls have once again been chosen by the 'Network for Fitness Professionals' for FILEX this year
» AOK Health - WINNER of Manufacturer's Export Award 2007 2008......INFO »

Feature Products
» With a complete selection of weights including 10kg, 15kg and 20kg, the AOK Power Training Bag is well suited to general strength programs through to high-intensity explosive dynamic power development.... MORE »
» The freeForm Board allows you to condition every major muscle-joint complex in the body through a full range of motion.... MORE »

In the News
» Students are on the ball in Kath Williams' class and apparently happier, healthier and doing better at lessons......VIEW »